Academy of Saint Bartholomew Preschool
Programs
Preschool (age 4)
1/2 day option: M-F (7:55-11:00 am)
Full day option: M-F (7:55-2:10 pm)
*Gross motor indoor and outdoor play
*Stem infused discovery learning and play
*Fine Arts and Library once a week
*Daily Religion, Mathematics, STEM, Social Studies and Literacy
Pre-Kindergarten (ages 4 and 5)
*Half or Full Day options available – Monday- Friday
– Full Day – 7:55 am – 2:10 pm
– Half Day – 7:55 am – 11:00 am
*Before and After care options
*Morning Snack
*Hot lunch option
*Gross motor indoor and outdoor cooperative play
*STEM infused discovery learning and play
*Fine Arts, PE and Library once per week
*Daily Religion, Mathematics, STEM, Social Studies and Literacy
Daily Schedule – Pre-Kindergarten
*Free Play – Open centers and discovery time
*Morning Circle Time – prayer, Pledge of Allegiance, calendar, weather, music and movement
*Healthy Snack
*Story Time – Emergent literacy skills
*Specials – Fine Arts, PE, Library and STEM Discovery
*Recess – Indoor/outdoor gross motor development
*Design thinking activities – Table Math, Language Arts, STEM and Social Studies
*Lunch – packed or hot lunch option
*Design thinking activities – Table Math, Language Arts, STEM and Social Studies
*Rest Time – 1-1.5 hours
*Afternoon Circle Time – Review of the day
*Optional After Care and Optional After School Programs
What is Preschool Stem?
An effective Preschool STEM program is one that is immersive.  Your child will be guided through an interactive STEM journey where every experience builds on another and no day is the same.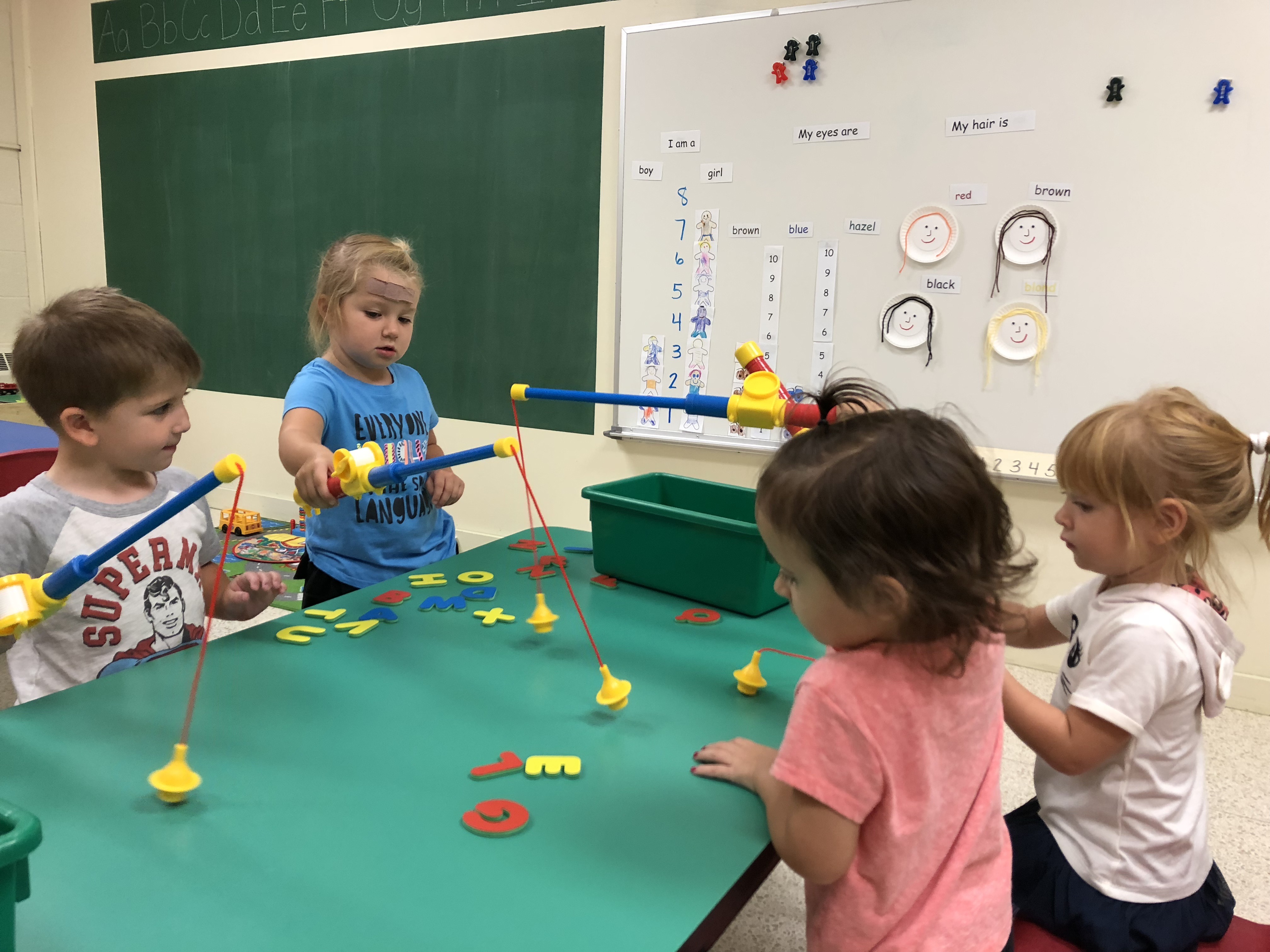 Mission Statement
The Parish Academy of Saint Bartholomew promotes an education rooted in the Gospel of Christ.  We provide an innovative academic education while preparing students to be global citizens.
Purpose and Goals
Our Preschool and Pre-Kindergarten programs (ages 4-5) value each child as an individual with his or her own talents and abilities as created by God.  Our educators strive to provide each child with a comprehensive educational experience that is based in inquiry, creativity and curiosity.  Our goal is to teach your child in an environment that emphasizes learning through hands-on exploration and play.
Faculty
Our Pre-School and Pre-Kindergarten teachers are highly knowledgeable, experienced and loving.  They understand that young children need flexibility and structure, planned experiences and spontaneous play and discovery.  Our Preschool is rooted in our Catholic faith and an approach that nurtures young children across all developmental domains.
For more information regarding preschool tuition, options and tours – please contact us at 440.845.6660.